With Priston Mill in Bath, you get the choice of two great wedding venues in one stunning location - it's one of the Ardeton String Quartet's favourite summer venues.
The Tythe barn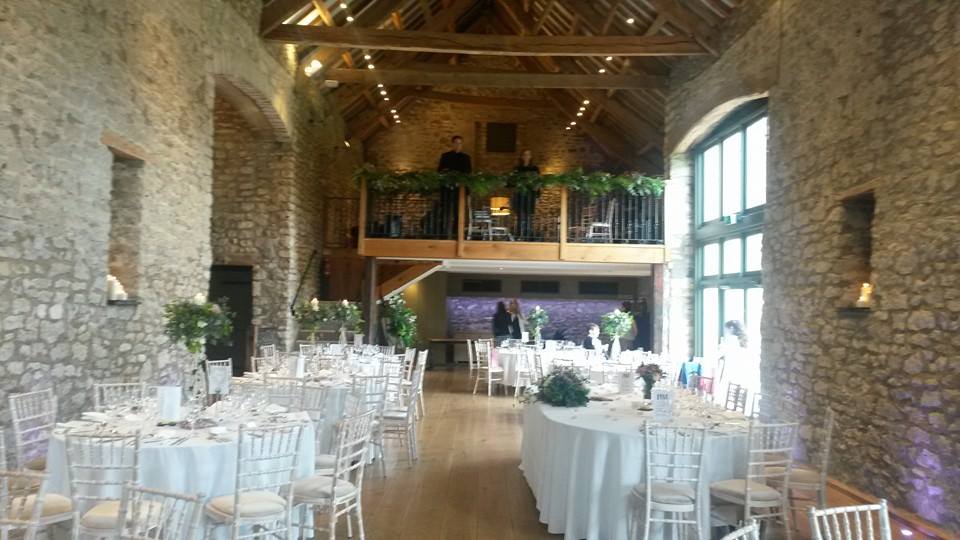 The Tythe Barn is a great venue to have a string quartet play for your wedding ceremony. Whilst some people do hold their ceremony outside, for most of our visits each year the quartet will be located on the balcony at the back of the ceremony room. This allows our sound to fill the whole building, whilst not detracting from the events taking place at the top of the room. It's easy for us to liaise and take our cues from the registrar or celebrant, and normally we just arrange for the wedding coordinator to send us a signal as the Bride arrives at the venue so we can bring our pre-ceremony music to a close and get ready with the entrance music. We would normally move outside for a drinks reception (or into the lovely decorated entrance room if it's raining), before returning to the gallery during the meal. One of our favourite things about this venue is watching the guests look up (sometimes only after the ceremony) and realise that the music was being played live - a few guests always remark that our playing was so good they assumed it was a cd!
The Watermill
Weddings at the Mill can often be smaller than those at the Barn, which makes for a much more interactive day for us with guests often making requests as the day goes on. We usually play for a number of outdoor ceremonies during the summer months, where we play just alongside the wooden gazebo. Indoors, we often play just outside the ceremony room if the room is almost filled to capacity, which can really add an impact as we start playing the and doors open for the entrances and exits.