The Ardeton String Quartet has wide experience of providing music for a variety of corporate events, from balls to product launches, formal banquets to corporate hospitality. We can provide a background of elegant music, a welcoming feature or a centre-piece entertainment. As well as working in Bristol, Bath, the South West and South Wales, they undertake corporate work across the UK. Some of our previous Corporate Engagements include:
Sky Arts
Hay on Wye Literary Festival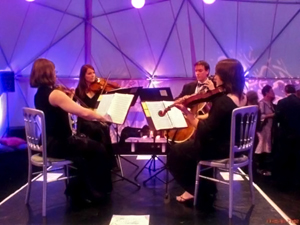 Stage performance for press party and celebrity guests, on behalf of SkyArts. The quartet performed carefully timed and themed sets to alternate with and complement performances by English National Ballet. Performances took place on a small, central podium with guests able to walk around and view the quartet. This highly publicised event was an exclusive invitation-only event attended by some of the UK's top authors, artists, comedians and celebrities.
Lloyds TSB
Conference Drinks Reception
Performance of background and featured music during a drinks reception for delegates. Music and dress was matched to the client's James Bond theme, including preparing requested music.
"Thank you to the Ardeton Quartet for providing the background music to our Pre-Dinner drinks at the Bristol Marriott Hotel last night – please pass on my thanks to Rebecca, Jan and Dury as well. A number of people mentioned to me how professional and polished you were, and the range of music within your repertoire. They also appreciated the James Bond music that you played! " - Tim, Lloyds TSB
The NHS
Gala Dinner Celebrating 60 Years
Gala dinner for over 500 NHS workers held at the '@Bristol' complex in the Bristol Waterside area. Featured performance on a stage whilst guests ate, with specially-arranged music included to follow the 'Diamond' theme of the evening
Cardiff City Council
Performance at the 'Wales Remembers' Veterans Event
Entertainment for over 1,000 veterans at the 'Wales Remembers' Event in Cardiff, attended by HRH The Prince of Wales and Wales First Minister Rhodri Morgan. Performances of music from the 1940's and '50's took place on a specially constructed stage with professional sound and light management, in between special presentations and performances by artists such as Aled Jones and Katherine Jenkins.
Marks and Spencer
3-Day product launch
Providing a 'live' performance of the music used on the television advert for the 'Amore' credit card, as the centre-piece to a large marketing display in a busy city-centre shopping centre. Sets included performances of a specially-written jingle and other themed music whilst marketing materials were distributed to the public.
Schlumberger
Drinks reception for opening of new office complex
A drinks reception to greet representatives of the company from across the globe for a conference and to see the grand opening of a new office complex near Gloucester.
Paradigm Norton
Launch Party for opening of new offices
Drinks reception and launching of new offices for a prominent Financial Planning company. Feature performance and background music with special guest Nick Park of Aardman Animations. Classical music helped to provide a formal and sophisticated atmosphere.
Sula Systems
Drinks Reception aboard the SS Great Britain
Corporate hospitality for key clients onboard the SS Great Britain in Bristol harbour, to celebrate the company's anniversary in the defence sector. Classical and jazz music to match the various moods of the evening.
'...just wanted to thank you for your fantastic musical accompaniment on the 20th September on board the SS Great Britian. It really contributed to a fantastic, successful evening. Thank you.' - Laura, Sula Systems
Pearce Construction Group Ltd.
Drinks reception and formal banquet
Sets of classical music to accompany a lavish drinks reception at the exclusive Tortworth Court. This was followed by 2 sets of more upbeat jazz and pop to accompany a formal dinner as part of the company's annual Summer Ball.
Welsh Tourist Board
Drinks Reception at the Hay-on-Wye Literary Festival
Corporate hospitality at the international literary festival. A gentle background of classical music for a drinks reception attended by Welsh Assembly Ministers and MPs.
Art of Bath Rooms
Opening Launch night of a new showroom
Music themed and timed to accompany special lighting sets to mark the opening of a new showroom for the company specialising in designer and bespoke bathrooms. Music and sets were designed to match music-related moods specified by the company, and music selections were made with client liason.
If you would like an informal discussion about how the Ardeton String Quartet can enhance your company's event, please call Sarah on 07941 692928, or email