The String Quartet is the most common form of 'chamber music', music for friends and social occasions. This particular style of music emerged from friends and relatives playing instruments at home during long evenings, and by the 19th century the string quartet found itself as the musical group of choice for parties and dinner dances at the residencies of Royalty and Aristocracy. From this the quartet has metamorphosed into something as comfortable playing Mozart as Madonna, remaining the perfect accompaniment for parties, balls and banquets. The Ardeton String Quartet has more than 7 years experience playing for such events.
Parties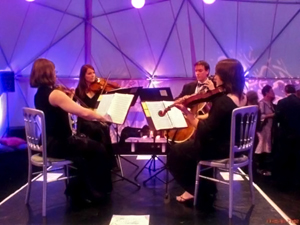 Whatever you are celebrating, the Ardeton String Quartet will have a style of music to suit. The quartet has one of the most eclectic repertoires available and are able to move between styles with ease. Whether you want classical music to provide an elegant accompaniment to a fine evening, or jazz music for a lively upbeat party, there will be a wide selection of music for you to choose from.
Since 2001 we have played for a wide variety of settings. From surprise birthday parties where we had to sneak into the venue, to charity barbeques, and from wedding anniversaries to private garden parties for groups of friends, we always provide the perfect musical accompaniment. We always perform with our high standard of professionalism, whilst remaining friendly and approachable to guests - we can even provide spoken introductions to pieces and talk about the history of the string quartet if you'd like!
Balls and Dances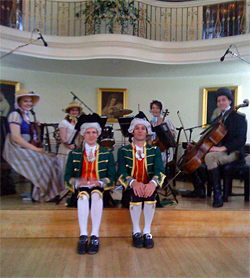 Whether you are having a company ball with 300 guests or a small select group of 30, a string quartet can bring elegance and sparkle to an event. The quartet has played for everything from masquerade balls to nightclub openings. With a large selection of classical music, ranging from light classics to larger-scale quartets you might find in chamber concerts, this can bring a real sense of occasion to formal balls and events whilst jazz and pop music can bring a more informal event to life. We are always happy to discuss the atmosphere and style you want to create for your event and find music to match.
Banquets and Dinners
Live music can be a real focal point to large and small scale banquets, and string quartets have a 300 year history of accompanying such occasions. The Ardeton Quartet can be playing in the entrance hall or already in situ in the dining hall so that your guests can hear the music as they arrive. The quartet can then play throughout the meal and provide a talking point for your guests and match the music to create the perfect ambience to your meal. We are very experienced in pacing our performance, providing the best build up to any after-dinner speaker you may have booked or for any speeches.