Kingscote Barn in Gloucestershire is a venue perfectly suited to having a String Quartet play for weddings. The Ardeton String Quartet play there several times a year, usually for a wedding ceremony and drinks reception, or for the whole day including the meal. It is certainly one of our favourite venues, and the staff and caterers are always brilliant.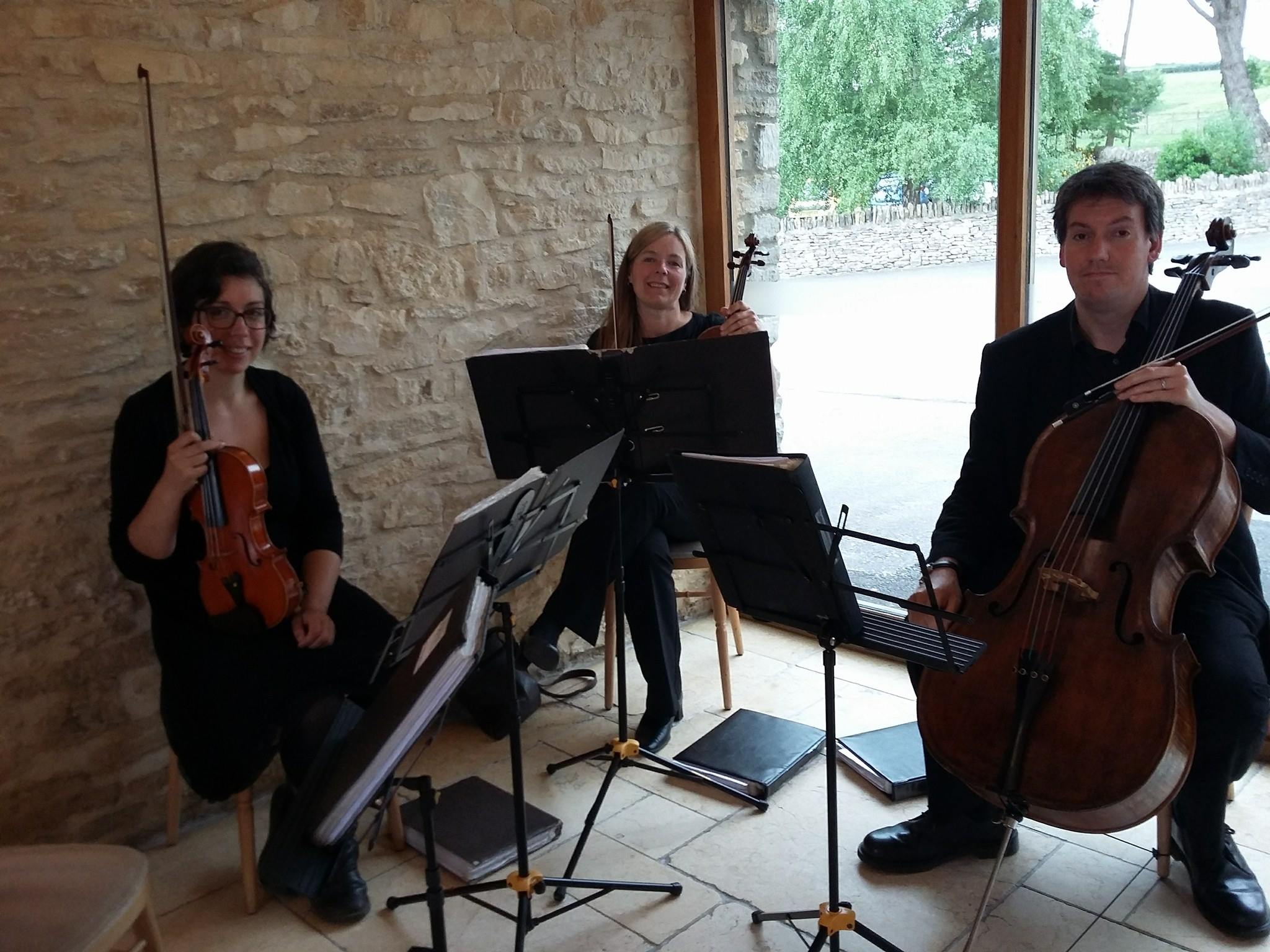 The gallery at the far end of the main room is perfect for live music. The Quartet is usually situated just behind the railings, allowing their sound to travel all around the barn. Quite often guests enter and assume the music is a cd playing, and it's great for us to catch some of them reacting as they look up and see us playing. As we are just above where the ceremony happens, it is perfect for us to liaise with the registrars, see the signals for when a Bride is about to enter, and generally take cues for when to play and stop during the proceedings. During the signing of the register, the balcony position allows the music to gently fill the room without taking any of the focus away from the guests watching the registers being signed or photos being taken.
During a drinks reception there are a few different options for where the string quartet can relocate to. On a sunny day, there is a shaded area just outside the righthand door from the ceremony room. Borrowing some of the parasols from the tables we can quickly assemble any extra shade needed on a particularly sunny day. Sometime the wind can work against us, with the barn being situated on its own hillside. We can often then play just inside the ceremony room, where the barn will amplify our sound - it's likely that on these days the neighbouring farms and towns can probably hear us too. In inclement weather, we often play in the corner of the drinks reception room, opposite the drinks table.
For a wedding meal we would normally return to the gallery. Again, our sound fills the room at just the perfect volume for your guests to talk whilst enjoying the music. If you choose the jukebox option, the guests can also pass up their cards with song choices without having to climb the stairs to reach us.